The ATA Fax Appliance - No Phone Lines Needed
Connect Your Fax Machine Direct to The Internet

An ATA device, short for Analog Telephone Adapter, allows you to connect
an analog device (a telephone or fax machine) directly to the internet.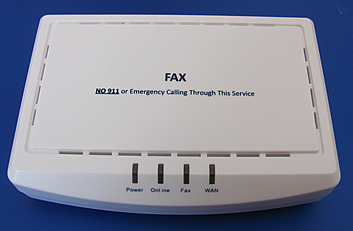 Use your fax machine without any phone lines
Connect your machine direct to the internet
Send and receive faxes through your machine, e-mail or both
Overcome issues with VoIP lines connected to fax machines
Full automated re-tries for failed faxes or busy signals
Success / failure reporting thru the machine, e-mail or both
The ATA box has a one time cost is $129.-
Monthly fee of $28.95 includes unlimited inbound faxes and 100 outbound
Call us direct at 561 325 7307 to order the box and configure it




The box will require some local set up and configuration based on your network settings and you will need to confirm your local MAC address. Then, you will can cancel your local phone carrier services.