HIPAA Compliant e-mail Fax Service
Secure Sign-Up:

Just $9.95 a Month

No Contracts - No Set up Fees
We offer HIPAA compliant fax services as a free option on our standard $9.95 a month internet fax service. Typical users include medical offices, laboratories, and medical billing services.
Receive your faxes through our HIPAA Compliant web portal. Following all current guidelines, we send your faxes through a secure portal. Fax notifications are sent by e-mail and then you directly access them through a password protected link to an encrypted web page.

Receive up to 1,000 pages per month at no additional cost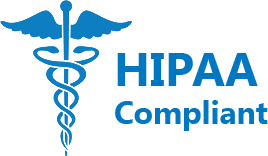 You can transfer your existing fax number to our fully compliant service. Click here for information on transfering your fax number to our secure servers.
After you set up an account we can manually set your preferences for our secure portal. Feel free to call us direct or send an e-mail to us here
We are a secure and reliable low cost e-mail fax provider with personalized service and are happy to answer any questions and help you set up a proper HIPAA e-mail based fax system for your office.
One of the strongest features of our website security is that we delete all faxes from our servers after sending them out to you. They are more than secure, they are deleted.
Here's the Federal HIPAA Reguations from HHS.